AN INTRODUCTION
Twitter is one of the top social channels where you can find new information and new connections. However, it is also an underutilized social channel by brands and companies. People find that Twitter is not as easy to use as Facebook is because of the limited content space, the rate at which you can find and connect with people, etc. Only 63.5% of marketers are in favor of Twitter for a good ROI. But it doesn't have to be that way.
Twitter is a great social channel to invest your marketing time and money in, what with
Over

313 million

monthly users
An average of

6000

tweets sent per second

78%

of people who follow SMBs retweet content from that business

75%

feel better about an SMB after following and reading its Tweets

69%

of respondents have purchased from an SMB after following them on Twitter
With the right kind of strategy in place for this social channel, your marketing can go places.
DEFINE MARKETING SUCCESS
Be it Facebook, Instagram, or Twitter, every kind of marketing requires a set of objectives—goals that define your marketing success and are in line with your company's core values. Zoom out and you will find four goals staring back at you.
Your marketing should deliver—
More leads and increase sales

Build brand awareness

Boost brand loyalty

Provide social customer support
From here on, you can narrow down your goals depending on a marketing campaign or a product release. This is the (first and) most crucial step towards building a successful marketing strategy. You need to know what you are at, what you are going to establish, and how far you have succeeded. So, take time to figure this part out.
DESIGN A TWITTER STRATEGY
Once you have decided what you are going to achieve through your Twitter marketing, you'll need to have a strategy in place. Trust me, if you skip this part, you'll have an unhappy boss, a lot of unexplained questions, and a marketing budget gone down the drain.
Know Your Competition
It's necessary. It makes your strategizing fun and easy as well. What are they doing right, how are they being a hit, what works, and what doesn't—you need to know these and everything else there is about your competition and their strategies. There are plenty of tools that can help you get this done in a matter of seconds.
Target Right Audience
There are plenty of Twitter users and it is most likely that your brand or company does not cater to all of them. You need to sort through and identify the right audience to whom your brand is relevant and who are most likely to make a purchase. Twitter offers a comprehensive list of targeting options to help you narrow that down to your niche.
Is One Twitter Account Enough?
Well, this depends on your company, your goals, and the brands you have. For example, if you have different departments and want to handle them through different accounts, then you might have one for sales, another for customer support, etc. If you have more than one brand like Amazon.com does, then you'll need one for each. Let's say, your company caters to audience from different countries across the globe, then you might want to have one account for each country that you sell in. You get the drift of it, don't you?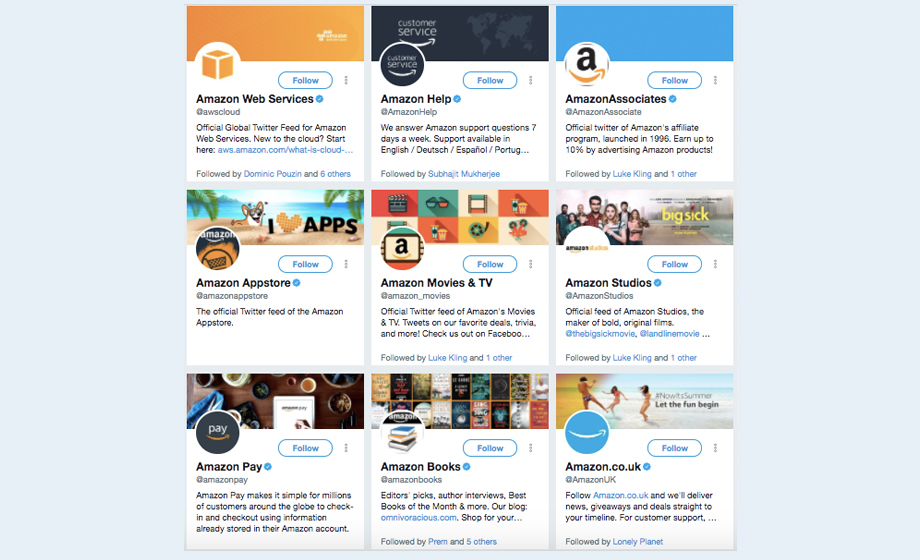 Connect And Integrate
Your strategy should integrate with other departments. If there is a new feature release in your product, then this should not just be posted on your company's Twitter account but should also be communicated to your Sales and Customer support teams so that they can answer questions being fired by prospects and existing customers.
This kind of communication is necessary to keep your strategy steady and your marketing in place. Else, it has the potential to bring your company down to dust in a matter of minutes.
Your Brand Is Unique
Write a piece of content and share the same post across all social channels. That's easy, right? But, I'm here to tell you to NOT do just that! Though it might be a shortcut, it might not work for the long haul. Most often people following your brand on one channel will be doing that on other channels as well. You don't want to present them with the same content on all the social channels, do you?
Create fresh, unique, and custom content for each social channel. It might take a little extra bit of your time but it's worth it. As an alternative, you can create all the content in one go. You can then schedule it to be published at different dates and times using a social media management software.
IF YOU HAVEN'T DONE IT ALREADY
Use Twitter Tools
As mentioned earlier, there are plenty of tools that will help you get a lot done and a lot out of Twitter. From social media management softwares to tools that offer specific services, from paid to free, we have all that covered in a neat list.
Complete Your Profile
A Twitter profile is the face of your company's social presence. You need to make sure that it is complete, up-to-date, and has a bio that conveys what your company or department does. If you have an account for your customer support then, let it show on the bio.
Add a clear image of your company or brand's logo. People don't want to see egg heads for a profile picture.
Get Verified
Yeah, this part is not just for celebrities! If you are a brand or company you need to have the Twitter seal on it. You need to have your account verified. Once Twitter verifies your account, there is a tiny blue tick mark that appears next to your brand's Twitter profile name. This adds credibility to your brand on Twitter. Learn more at the Twitter help desk.
CREATE AWESOME CONTENT
Marketers have always preferred real-time engagement and it seemed to have worked all these years. However, Twitter has informed its users to focus on right-time engagement. It also encourages brands to have a steady and regular flow of relevant content pouring in. A good social media publishing software can come in handy.
Now, don't freak out. It's really easy if you these ingredients when tweeting.
Keep it really short. Though Twitter allows up to 140 characters, 90-100 character long tweets work best. Focus each tweet on one message instead of squeezing in a lot of information. And there's only so much you can do with a character limit.
Use visuals. Get a little creative.  Throw in a couple of images, a GIF, or may be a short video that complements the content. Twitter says that tweets with visual content get 3x engagement than the ones without visuals. It also lists out a set of dos and don'ts for you to consider when creating visual tweets for your brand or company.
Include relevant hashtags. Similar to Instagram, hashtags are the connecting links that bring users to your tweet. They work like search keywords. You need to find and use those hashtags that are relevant to your brand or company. As a best practice do not use more than two hashtags in your tweet.
Interact. One of the best ways to interact with your audience is to ask questions (of course, relevant to your brand or company). You can even run polls to understand what people think about your brand or to get feedback from customers on a product.
Stay active. Retweeting and replying to tweets is another way of keeping an active presence on Twitter. The noise around a product or campaign can die down quickly if you do not keep the conversation going. It is also necessary to be responsive to questions, comments, or feedback that customers may have about your brand, product, or company.
OTHER WAYS OF MARKETING ON TWITTER
Paid Advertising
Organic marketing alone won't cut it. Sometimes, it is best to complement it with a bit of paid advertising. This will help you reach a bigger set of target audience and also achieve your goals quicker. In short, paid campaigns help amplify your marketing efforts. Twitter offers a step-by-step guide on how to achieve your goals and which type of campaigns are best suited for each one of them.
Twitter Chats
With all those tweets, replies, and retweets going around, you could host your own little Twitter chat party for your brand. Twitter chats are a great way to showcase yourself as the thought leader. They also help a great deal in brand advocacy and to help build a community around your brand.
If you are new around here and want to join a Twitter chat instead of hosting one yourself, then you can look for them here:
Twitter Moments
You read that right! Moments are nothing but a curation of the day's best events and stories. It was opened for everyone last year and I think you should try your hand at it. Here are 10 tried ways you can get it to work for your brand or company.
Live Videos
Live videos were something that Twitter brought in to beat the competition from Facebook and Instagram. It could be a quick message by your company's CEO or a glimpse of an event you are hosting, you could use live videos to boost your marketing. It is as easy as typing out a tweet. As mentioned earlier, visuals always help get your audience's attention. And with live video broadcasting, you can spice things up a little.
Influencer Marketing
Influencer Marketing is the in thing in today's online and social marketing. And it seems to be a hit, thanks to all the humongous fan following for a lot of people. Influencers can help you boost your marketing efforts by many folds. Here are five steps to help you rock the influencer marketing like a pro.
Find out about your target audience

Research and learn about your influencers

Set a goal or objective for the campaign

Determine who will create content—you or the influencer

Measure results
TWITTER ANALYTICS
Measuring your marketing progress is necessary for creating the next best campaign. If you do not know what went wrong, how will you fix it? If you don't know what worked well, how would you leverage it?
Twitter has an inbuilt analytics system to help you define and measure your marketing success. It breaks down the report for you by
Engagement

Link clicks

Retweets

Likes

Replies

Video views

Photo or video clicks

Detailed expands

Profile clicks
It also has options to customize the duration of the reports and download them. The downloaded CSV report gives you a more in-depth analysis on how your brand has been performing. Once you start getting a sense of what's working with your audience, you can start tweeting similar content.
But this can get challenging if you have more than one brand to monitor and report on. Get the help of one of the many Twitter analytics tools available to crack this. 
FINAL NOTE
That's Twitter marketing for you in a nutshell. Go on now and create a strategy for your brand. And don't forget to come back to tell us how it worked for you. Good luck!
Author bio
Monica Maria is the content and 'PR'oduct person at SMhack. She enjoys everything and anything social. When she isn't discussing social, you can find her reading poetry or taking photographs.